Choose Your Plan
Choose Your Plan
Any Style
Two-Story
Ranch
Cape Cod
Benchmark Collection

i




---

American Dream
Coastal Lifestyle
Lake & Lodge

Homestead Collection

i




---

Homestead
Multifamily

Modern Collection

i




---

Modern Living

Show me homes regardless of collection
Any Sq. Ft.
Under 1,500
1,500 - 2,000
2,000 - 2,500
Over 2,500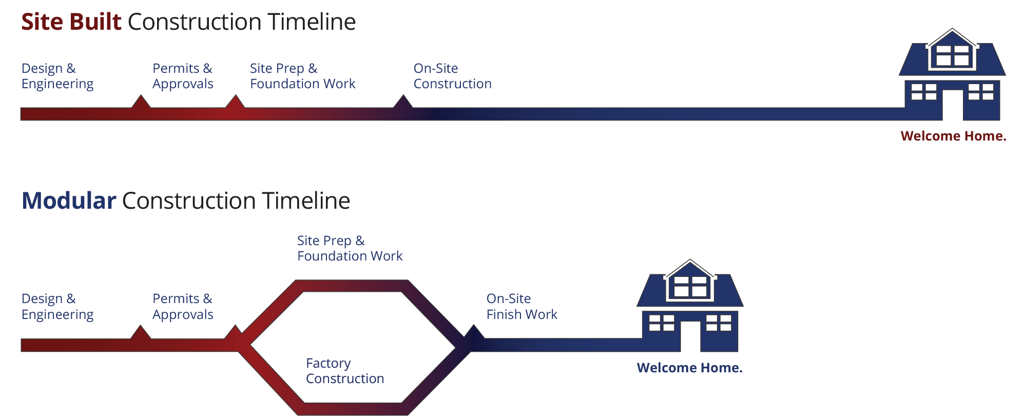 Become an Approved Ritz-Craft Builder
Build more homes, in less time.
Moving to Ritz-Craft's off-site modular building process will not only help you to build more homes, it will help you to build your business. Think of Ritz-Craft as a super-sub, building the modules for your project inside our climate-controlled building environments while you will prepare the site — at the same time. Effectively reducing the overall timeline of your project, saving your customers money on their construction loan carrying costs, and allowing you to be paid faster.
This reduction in time, paired with a reduced need for a large number of subcontractors, allows your business to expand outside of your geographic market, without having to drastically expand your overhead.
swipe graphic to view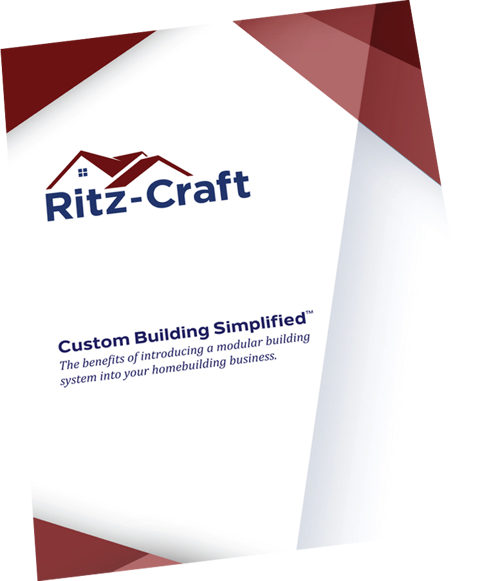 Custom Building Simplified
Get your FREE copy of "Custom Building Simplified." A detailed resource with more information about how implementing a modular building system can help you grow your business.
Build more homes.
Reduce your number of sub-contractors. Increase your number of closings. By shifting your business from building on-site to building off-site you'll reduce your overall build times as well as your project management burden.
Other benefits include:
Consistent and dependable labor at the

Ritz-Craft

factory
Consistent quality and craftsman ship on every build
The ability to build during inclement weather
Reduced exposure to

on-site

job theft
Fewer

on-site

inspections
Reduced

job-site

waste
Modules undergo a rigorous quality control and third-party inspection process in our factories and arrive to your building site up to 80% complete. Depending on the complexity of your build, your final finish crew can complete the job in a third of the time you're accustomed to.
Build your business.
Helping you find new leads, nurture relationships, and increase brand awareness. At Ritz-Craft we build more than homes, we build businesses. Through our one-of-a-kind Total Marketing Solution (TMS).
We take the guess work out of your marketing so you can focus on what you do best — homebuilding. With TMS your website is hassle-free, your lead nurturing processes can be automated, and the logistics of project management become scalable.
Throw in additional tools for photorealistic home renderings, virtual home tours, customizable design rooms, and more, and there is no doubt Ritz-Craft makes it easy for your business to deliver the buying experience today's savvy consumers expect.
What are you waiting for? Talk with an expert about how to get started!
Hear from a
Ritz-Craft

Builder
Download Your Copy of "Custom Building Simplified"
Learn More About Becoming a
Ritz-Craft

Builder

All fields are required